Siemens
easyTek Streamer
Regular price
£238.50
exc. VAT
£286.20
inc. VAT
£0.00
---
Return Policy
All purchased equipment comes with a 28 day return policy, whereby if an item is returned within this period in its original packaging and in a saleable condition, then the buyer is entitled to a full refund of the price of the item. Please note that this does not include postage & packaging.
---
The easyTek is an audio streamer and remote control, all combined in a single unit. It has simple one-button operation and no programming is required. This stylish and compact device is designed to be worn around the neck and reliably connects compatible Siemens hearing aids to Bluetooth-enabled devices.
The easyTek is compatible with the following hearing aids:
NHS: Teneo R+, Teneo S+, Teneo M+, Teneo HP+.
Retail: Pure binax, Carat binax, Motion binax, Insio binax (CIC, ITE, ITC), Orion 2.
Bluetooth wireless input and direct audio input provide connectivity to devices such as TVs, music players, laptops, smartphones and radio aid receivers (e.g., Phonak Roger). 
The easyTek is small and light and can be worn on top of your clothing or discreetly hidden underneath and there is no need for programming because it works right out of the box!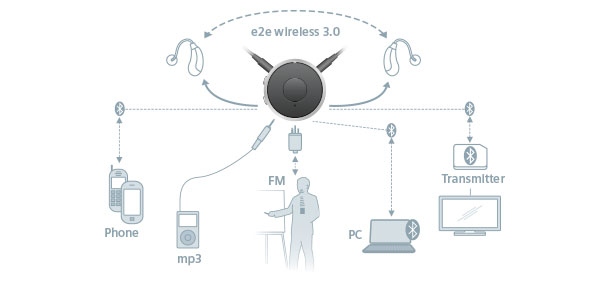 Perfect stereo
e2e wireless™ 3.0 brings you true stereo sound from your favourite devices. It automatically connects both Siemens hearing aids to the audio source via easyTek, minimizing the need for manual adjustments. This ensures interference-free, crisp and clear transmission directly into your ears.
Natural sound
Most Siemens hearing instruments that are compatible with easyTek are equipped with SoundBrilliance. This feature is especially important when listening to TV, phone calls or music because it enhances the perception of higher-pitched sounds. The result: A richer, fuller and more natural hearing experience.
Remarkable efficiency
Thanks to the extremely low power consumption of e2e wireless 3.0, easyTek can stream up to 6 hours using Bluetooth or 10 hours using wired and radio aid streaming. When compared to similar devices, easyTek offers more functionality without compromising the battery life of your Siemens hearing instruments. Even when you link to devices, such as the TV and phone, the power consumption of your hearing aids remains the same. 
Advanced streaming
easyTek is equipped with multi-point Bluetooth. It wirelessly connects to many different Bluetooth-enabled devices. Sound from TVs, mp3 players, phones and other audio sources is fed directly into your ears.
Transmitter
To connect the easyTek to the TV you will need to use a Tek Transmitter (purchased separately). The Tek Transmitter is like a translator. It converts ordinary audio signals into Bluetooth data, so regular audio devices can communicate seamlessly with the easyTek.
Pairing Siemens Transmitter with Siemens easyTek
easyTek™ App™
When combined with the easyTek, the easyTek App allows users to control their hearing instruments even more discreetly via their smartphones. Plus, the easyTek App enables additional functionality for the easyTek. The clear and intuitive interface means, it can be operated quickly and easily – for maximum convenience.
Spatial Configurator Span is available with binax 7bx and 5bx hearing instruments with e2e wireless 3.0 and a rocker switch, or with easyTek and the easyTek App, i.e., does not work with non binax hearing aids.

Spatial Configurator Direction is available with binax 7bx and 5bx hearing instruments with easyTek and easyTek App, i.e., does not work with non binax hearing aids.
Supplied with: easyTek with neckloop, USB cable for charging.
Power Supply: 100 – 230 V ac 50-60 Hz.
Features
Ultramodern and small (49 mm diameter, 12 mm thickness, 23 g weight);
Discreet and convenient one-touch operation with the intuitive multi-function button;
Bluetooth Audio Streaming: 6 hours;
Wire Audio Streaming (Direct Audio Input radio aid receiver, Line-in): 10 hours;
Multipoint system works with two phones at one;
You can connect to up to two Tek transmitters (purchased separately) in order to enable wireless audio streaming for devices that do not support bluetooth;
Stream audio from two VoiceLink transmitters (no longer available);
3.5 mm stereo socket for direct connectivity to audio sources;
Automatic situation detection and adjustment of the function and controls for streaming, phone calls, programs, and external audio sources;
Battery charging time: 2 hours;
Lithium lon Single Cell rechargeable battery;
Bluetooth version 2.1 with the following profiles: Headset profile, Handsfree profile, Advance audio distribution profile, Audio video remote control profile, Serial port profile;
Status indication: Power, streaming and status LEDs;
USB connection: Micro USB type B; USB 2.0 (full speed) for programming by hearing care professional only.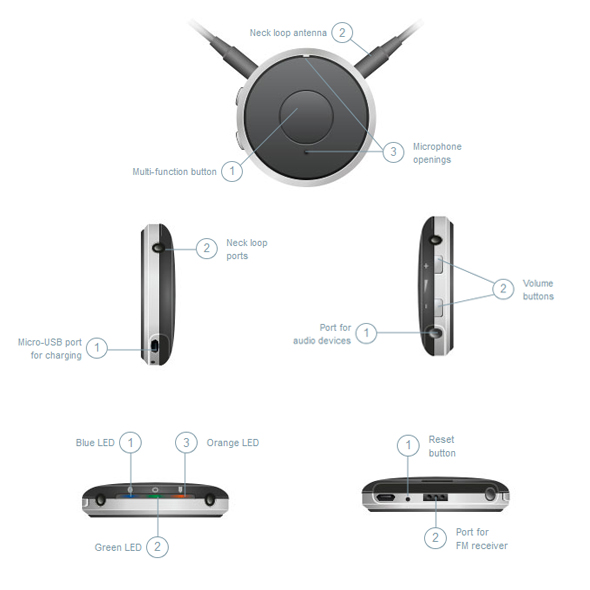 In order to function correctly, you must wear easyTek with the neckloop around your neck. The neckloop is also the antenna.
Downloads
---
More from this collection